2017 Exit Planning Report
Zangari Cohn Publishes Second Annual Exit Planning Survey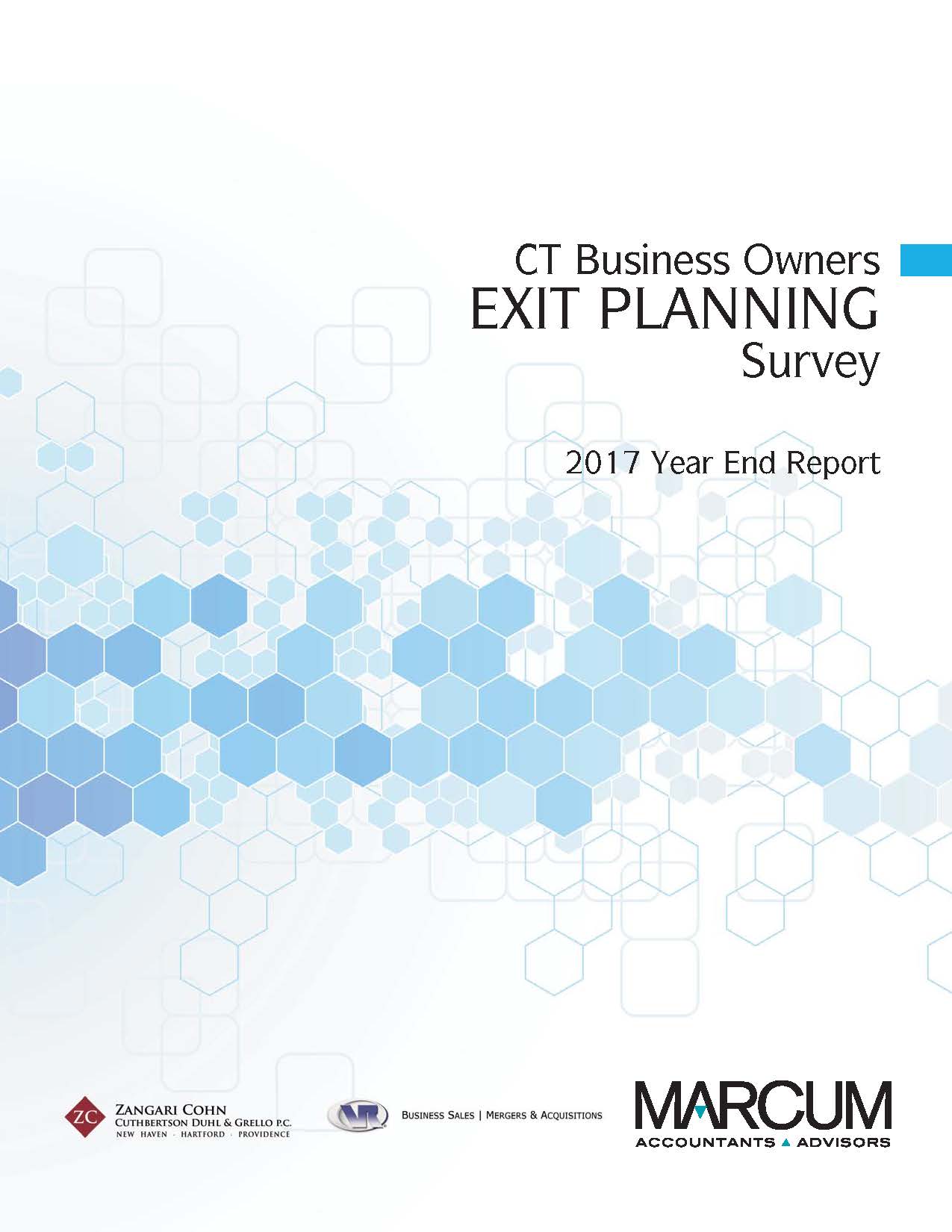 By Benjamin P. Michaelson
In addition to death and taxes, there is one more sure thing for business owners (including those that would describe themselves as family business members or entrepreneurs) – exiting your business. Exit planning is an important part of each business owner's strategic plan, and should be addressed internally, and with trusted advisers on a regular basis.  In an effort to help clients understand these issues, and to be more prepared to help our clients, Zangari Cohn has teamed with VR Business Sales – New Haven and Marcum to survey Connecticut business owners on their exit planning. The CT Business Owner Exit Planning Survey for Year End 2017 has been published. Please view, print or download a copy here:
2017 Final Exit Planning Survey Report
Members of the Baby Boom Generation, which comprises an age demographic ranging from 56 to 71 years old, own 8 million businesses nationwide. The leading edge of this group of owners is already exiting their businesses. As this generation ages, the market for business sales will be comprised of more sellers than buyers, which will have a significant impact on valuations. Owners who clearly understand how to prepare for an exit will be better off than those who do not. Exit strategies consist of a variety of ways to transfer business assets; these can range from pursuing succession planning to the next generation in a family business, selling to current management, or selling to a private equity group or some other third party. Ideally, companies prepare for a sale as a part of the normal course of managing their business. Good exit planning enables owners to realize a smoother transfer of assets at higher valuations. The Connecticut Business Owners Exit Planning Survey was created to measure how well owners are prepared for an exit and to gauge their sentiment for selling a business in Connecticut. VR Business Sales – Mergers & Acquisitions, Marcum LLP and the law firm of Zangari Cohn Cuthbertson Duhl & Grello P.C. teamed up to conduct this survey because of the Firms' and their clients' interest in issues related to exit planning, with the belief that it is important to quantify the challenges ahead for business owners as the population ages.
We hope that you find the content in this report useful.